Hexagonal Wire Netting
We produces hexagonal wire netting, especially heavy type hexagonal wire netting products with quality steel wire.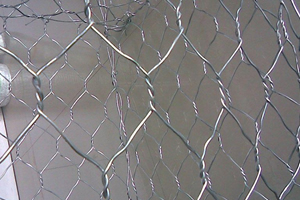 Hexagonal Wire Netting heavy type mainly fall into two categories:
Galvanized Hexagonal Wire Netting
PVC Coated Hexagonal Wire Netting
Galvanized hexagonal wire netting is made of first-class steel wire. The tensile strength of steel wire is minimum 35kg/m2 while the wire diameter varies from 2.0mm to 4.0mm. The treatment of hexagonal wire netting is electric galvanized or hot-dip zinc plating. The thickness of zinc coating can be custom ordered. Standard zinc coating is 200g/m2.
PVC Coated Galvanized Hexagonal Wire Netting is made of PVC coated galvanized iron wire. The PVC coating will greatly increase the worklife of the hexagonal wire netting. Different colors available for PVC coated hexagonal wire netting to make it matching with the natural environment.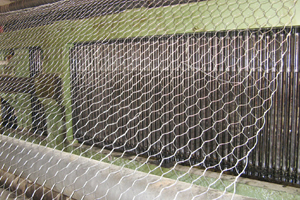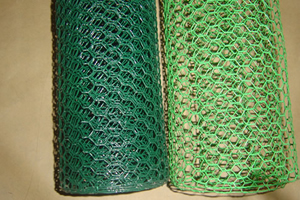 Uses of Hexagonal Wire Netting: Hexagonal wire mesh with its good corrosion resistance and oxidation resistance, serves well as strengthing, protection and temperature keeping materials in the form of mesh container, stone cage, isolation wall, boiler cover or poultry fence in construction, petroluem, chemical, breeding, garden and food processing industries.
.
specification
Diameter(BWG)
Aperture
1.5CM1/2"
22
limit:2M,single or double edge
24
2CM3/4"
20
width limit:2M,single or double or strong edge
22
24
1.8CM5/8"
21
limit:4',single or double edge
23
25
2.5CM1"
19
width limit:2M,straight or reversed twist
21
23
3CM1.25"
19
width limit:2M,straight or reversed twist
21
4CM1.5"
18
width limit:2M
20
22
5CM2"
18
width limit:2M
20
22
method of weaving
electric gal. hot dipped after weaving.galv.before weaving
others

PVC hexagonal wire mesh(green,white,gray,etc)enamelled green wire mesh